Swag and Giveaway Ideas for Your Next Virtual Event
---
It's one of the great secrets of marketing – people love free stuff.
Giveaways are the unspoken currency of trade shows, vendor meetings, networking happy hours, surveys and company culture events.
People are more likely to show up and pay attention if you give them something in return for their time, whether it's free food, an open bar, or what Michael Scott calls "stuff we all get."
But in a world gone remote, it's harder than ever to give stuff away.
It's forced companies to rethink what their audience wants and what they have to offer.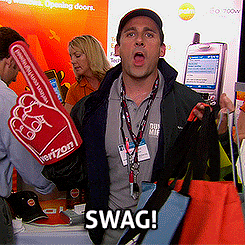 New Takeaways from Online Events
Some organizations are going all in on pandemic gear, offering branded masks and hand sanitizer.
Companies like Uber and GrubHub are making a pitch for free food via vouchers for webinar attendees, employees or prospects.
There's an opportunity to drive additional engagement by limiting the vouchers to the first people to sign up, share a social post or engage in the conversation.
Many brands recognize that real-world objects can help bring a virtual event to life.
Sending a care package or small gift before or after the event is another way to get your event to stand out from countless competing online sessions. During the session, engage attendees by raffling off gift cards or small gifts every five or 10 minutes.
A Content Marketing Connection
There's also a major content marketing opportunity with virtual events. Consider including a thought leadership article in a pre-event package. Compiling a few articles into an ebook, infographic or discussion guide can also all make for compelling leave behinds or an additional touch point after the event.
Here are a few other ideas –
Charitable donation in the name of the attendee
Digital gift card
Work-from-home kits
Snack pack and drink mix
Voucher for online courses
Follow-up sessions/Q&As with speakers
Personalized thank you note
A quick post-event survey can also help guide the content of future programming – and which SWAG gets people's attention.
Imagine that SWAG pioneer who first emblazoned a tote bag with their company logo. We've reached a new era of giveaways and promotional items and organizations that can find new ways to stand out will command greater attention with their free stuff.